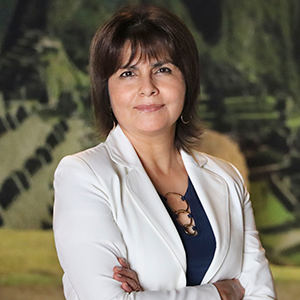 What do you personally love most about Peru?
I love its diversity, in all the ways Peru is diverse, its geography, culture, gastronomy, history, immigration. All of these have made what Peru currently is and the uniqueness and essence that captures the world attention.
How quickly is tourism growing in Peru? 
Peru is growing steadily and with a huge compromise in sustainable tourism. Its tourism sector is becoming a major industry for development. It is, in fact, the third-largest source of investment in the country, with 4.4 million foreign tourists in 2019. It is opening a wide spectrum of opportunities for many regions of Peru and decentralising services. According to our Ministry of Foreign Trade and Tourism, Peru expects to post a growth rate of 10% in the number of tourists visiting during 2020. More airlines and hotel chains are interested in investing in Peru and our Lima airport is beginning to expand as a hub.
Why do you believe Peru is experiencing a boom in luxury travel?
I think this is the result of many years of expertise of the luxury segment in Peruvian destinations that are undoubtedly one of a kind. The high quality services, new infrastructure, accessibility and of course the warmth of our hospitality are very important ingredients in offering a luxury service. In Peru, we offer more than a regular trip, we deliver experiences, such as Amazon cruises, visits to the Lake Titicaca lodges, and adventures in the Sacred Valley of the Incas, among many others. Above all, we have developed a gastronomic impact with award winner's restaurants and highly renowned chefs.
What are your most popular source markets? Which markets are key and emerging?
For us, all the markets are important but, in the last few years, there have been interesting episodes that have made us focus on different angles and therefore, markets. Western Europe as a region is a strong traditional market. The United States is also one of our main markets not only because of the number of arrivals, but because of the closeness and the convenience for Americans to travel to Peru. Asia has become a big and strong market in the last few years too. Our beloved South American travellers are also a huge market because they return many times to Peru, each time seeking amazing cuisine or to get to know new destinations.
Machu Picchu is of course iconic. For what other reasons do people visit Peru? 
Kuélap has become a hot spot in recent years. The Amazon, the Moche Route, Lake Titicaca and of course Arequipa are also places with a unique appeal. All are different, with different cultures and experiences. Lima too has its own peculiarities in art, culture, history and undeniably has the best restaurants in Latin America.
What else should visitors experience beyond this? (e.g. Culture, Gastronomy, Adventure)
I think most people will agree when I say that Peru is a well-rounded destination. It has a lot to show regarding history, nature, gastronomy and adventure. There is also a wow factor in its multicultural background. Most people leave Peru stunned because they start thinking about the Inca Empire but when they learn more about all the pre-Columbian cultures and all the sacred sites located in the amazon, the Andes and the coast, they simply become amazed. Visitors should also expect Peruvians to be very warm hosts.
Peru is considered one of the most biodiverse countries in the world. What action is being taken to protect and conserve Peru's beautiful natural resources as it grows as a luxury travel destination?
Many institutions are working with the private sector to preserve our natural resources and to give the travellers the necessary information they need to understand how important it is for Peruvians to protect not only the land and species but to keep the culture alive. In addition to this, both the State and private sector have stepped up their efforts to develop initiatives aimed at ensuring the sustainability of tourist attractions, with an active involvement of the civil society. Proof of this is the reforestation initiative  "One Million Trees for the Historic Sanctuary of Machu Picchu," which is aimed at reducing the carbon footprint left by visitors and restoring the forests of the Andean highlands in Cusco. Another important initiative is "Less Plastic, More Life," which seeks to reduce the use of bags and other plastic products that contaminate natural resources.
Tell us something surprising about the destination. What don't many people know about Peru?
I think many people don't know that Peru is a very emotional country, with a lot of passion. There's a strong pride in every Peruvian for their country, their culture, gastronomy, sports, music.  It is fair to say that every city, town or small village in Peru has something beautiful to share.
What initiatives is Promperu currently undertaking to help promote Peru on a global scale?
Promperu are always focused on ambitious goals, with strong strategies that include activities with the trade channels, advertising, PR and marketing. We also participate in the most important fairs in the world. We put a lot of efforts in local and international events such as the Panamerican and Para Pan-American Games, where the international media could learn more about Peru and the amazing destinations it has to offer. This year, for example, we will also participate in the Expo 2020 Dubai, focusing our efforts on promoting Peru as a gastronomic and sports destination.
Finally, what impact do you expect Connections in Peru to have on the region?
We really have high expectations regarding Connections. We will be hosting a very specialized event, and for the first time we will be welcoming international buyers that represent the best in high-end travel. Connections will allow participants to experience what we have to offer in terms of culture, nature and infrastructure. We have managed to craft unique experiences that are not yet available internationally. In this aspect, Connections will play a very important role in promoting Peru and Latin America. We also expect to bring about important business opportunities for the buyers and sellers attending Connections and as a result of this an increased economic value of luxury travel in the region.