The Sea Star Journey celebrates its return to the Galapagos waters as one of the most considered and sustainable boutique yachts in the region.
For over five years, Latin Trails has continued to innovate one of its most revered products: the Galapagos Sea Star Journey. Originally custom-built in Ecuador's port city of Guayaquil, this eight-suite yacht was created to offer a more personal and private way to explore the 19 unique islands within the Galapagos archipelago.
"No other Galapagos boat offers so much space and comfort per guest." Marcel Perkins, MD of Latin Trails
Since then, the Sea Star has undergone a series of modifications to safeguard its place as one of the best for cruising the World Heritage site. It's no wonder then that the Sea Star Journey has been included in the National Geographic Luxury Collection.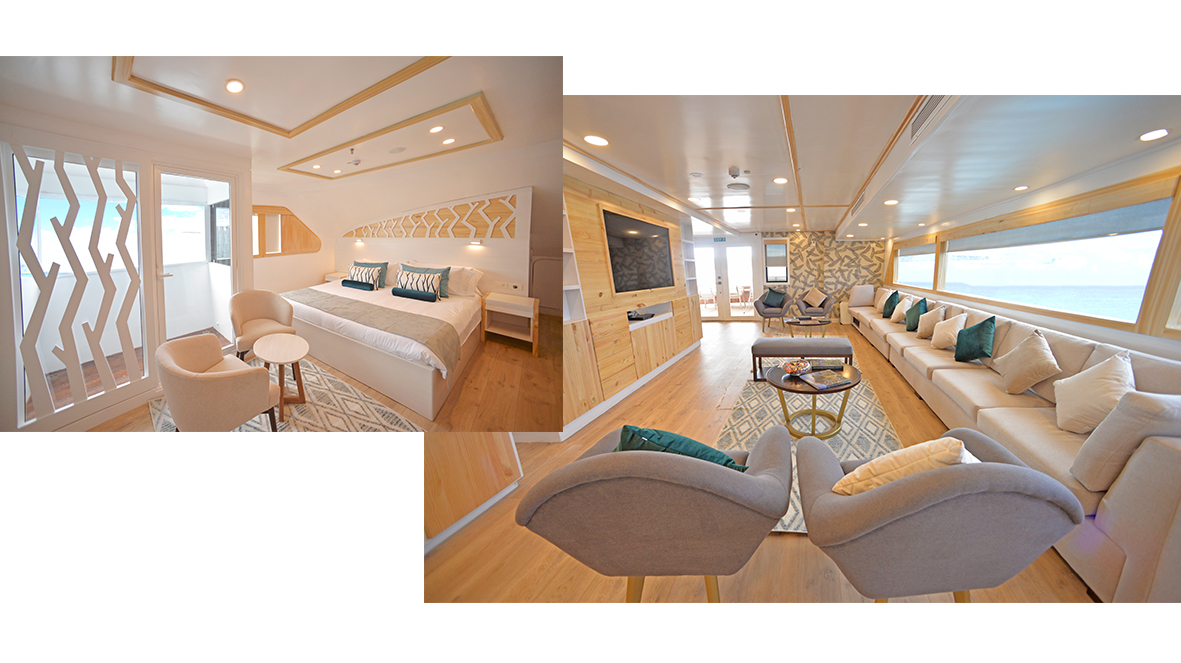 In 2019, Latin Trails began one of its most ambitious redesigns yet with a $2 million investment to update almost every element of the yacht. For over two months, a team of 60 local carpenters, engineers, mechanics and artisans worked to improve the technical features and design of the boat. Interior inspiration was taken from the dramatic plant life that populates the Galapagos islands, with designs subtly hand carved and hand painted throughout the boat. In fact, one of Latin Trails' proudest achievements as part of the Sea Star innovation was this on board gallery of art, design and technique created by talented Ecuadorians.
A water purifying system has been installed to eliminate the use of plastic bottles, producing 60 gallons of drinking water per hour.
From encapsulated power generators for less noise, twin motors for greater autonomy and a glass bottom zodiac for guests who are unable to snorkel, the yacht has become ever more equipped to offer a nature expedition with ease, comfort and sustainability in mind. On top of all that, it has a marine steel double hull, ensuring world class stability and safety.
The Sea Star's size lends itself to experience the Galapagos in a very special way. Impressively, the yacht has over 1,100 square feet, offering guests the same amount of space as if there were 100 passengers on board. The 16 guests on board Sea Star can take advantage of two landing zodiacs, twin sea kayaks (one per cabin), two hot tubs, king size beds for those who wish to "glamp" under the stars and a private dining area for couples.
The Sea Star crew has a long working history in the Galapagos. Having been with Latin Trails for over ten years, they understand the needs of a high-touch traveller with almost one crew member per guest.
Chef Richer Ulloa has been on board since day one, creating local and international dishes for Sea Star guests and has not only designed the gastronomic menu experience (created using natural and organic ingredients) but the yacht's entire kitchen system.
Captain Wladimir Barzola keeps a tight ship. He has been navigating the islands for over 30 years and knows every anchor point, sea current and intricate passage within the archipelago.
No matter which of the three itineraries guests choose, exploring the Galapagos Islands on board the Sea Star Journey offers avid travellers the opportunity to experience close encounters with the unique wildlife, all while relishing the creature comforts of world-class service.