The context:
As the industry starts to recover and resurge following the pandemic, we're witnessing the transformation of luxury travel – and indeed the definition of luxury – once again.
Luxury travel is perhaps the most immediate sector to bounce back, and it is this sector that is vital to California's tourism recovery. Over the course of the pandemic, over two-thirds of Connections Luxury buyers have expanded their product, with North America being the second-highest in terms of destination expansion. 
The luxury traveller proved to not only remain strong during a global pandemic, but has become stronger. It is therefore important to understand how this luxury segment is changing so the industry can better identify and market to this audience. 
On one hand, we have the traditional luxury traveller that we are all very familiar with. On the other, a new category of traveller is emerging; one typically found outside the high-net-worth bracket, but who is participating more and more within aspects of luxury travel. 
"During the pandemic, we saw great strides of personal savings so people were willing to upgrade their travel" – Mike Gallinari, Mintel
The data:
Luxury travellers in the general population are younger than HNW luxury travellers, and nearly half make less than six figures. As such, luxury travel providers can tell their story to two different demographic audiences. 
"Luxury unbundling" – Luxury properties are beginning to offer "room-only" rates which allows guests to have to luxury experience without paying for the aspects they don't plan to use
Genpop show strong luxury intent
57% US consumers intend to have a luxe experience in next 12 months

37% of UK travellers say the same, however…

64% of those make less than 50K annually.
Privacy is most important for genpop, whereas customisation is the key trend for HNW travellers.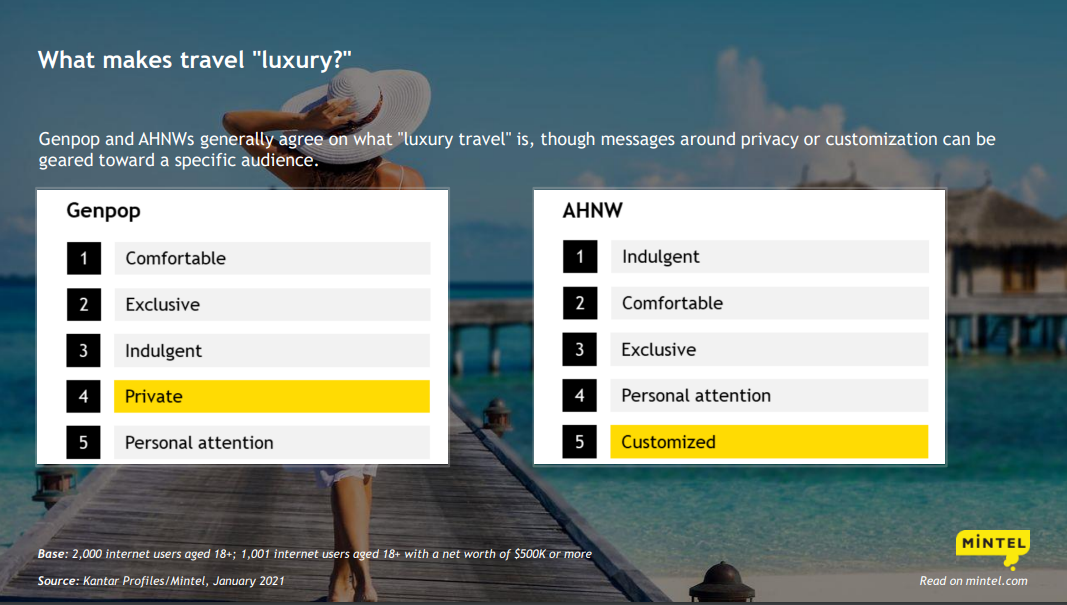 A word from California Luxury Forum attendees:
Today's luxury travellers are looking for experiential, exclusive and enriching experiences. They're also mindful of protocols and want flexibility through refundable itineraries. 

"Experiences are being upgraded, stays are getting longer because of the priorities being adjusted with the traveller" – Mo Noubani, President, The Travel Box
Five-star accommodation is still important to the luxury traveller, but customised trips are more compelling than ever. HNW travellers are spending longer in one destination, exploring the outdoors and enjoying authentic interactions with the locals. There is a return to the energy of cities, though conditional on experiences being one's own. Privacy has become an overarching trend across the luxury travel trade. 
There has been a rise of bookings from new clients, including those that fall outside the traditional HNW traveller bracket. Genpop are spending more money on hotel and flight upgrades, as well as VIP experiences. Where before they would typically join a group booking, now they want to enjoy private excursions. 

"HNW travellers are now looking for wide open spaces, amazing weather, sustainability and cultural diversity" – Becky Merry-Barrango,Manager, Business Development and Sales, Visit Napa Valley
International travel is returning, and domestic travel remains strong. As a result, travel advisors are booking more local business, becoming domestic experts to service the demand for customised itineraries. 
Though advisors aren't receiving requests specifically for sustainable options, they are finding that clients are responding very well when advised of responsible habits and initiatives adopted by hotels, attractions and experiences. Meanwhile, suppliers are receiving more requests from groups, especially companies running incentives or leisure itineraries as a way to maintain their own sustainability standards. DMOs are working hard with travel trade to understand exactly what the client is looking for, but it was agreed that it's the responsibility of the trade to educate the luxury consumer and increase demand for sustainable travel. 
There is growing optimism in the resurgence of luxury travel, though acknowledgment that the industry is still building back the staffing, resources and infrastructure that was severely affected by Covid-19. Suppliers are incredibly aware of the impatience of the traveller, and believe that 2023 will see a return to pre-pandemic service levels.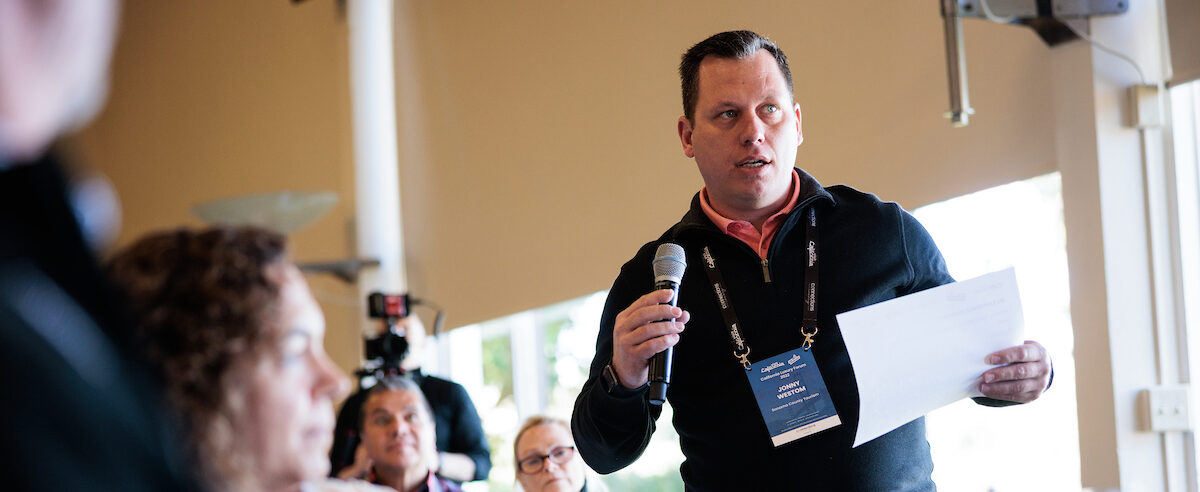 "Luxury dipped the least, and rebounded the quickest" – Jonny Westom, Vice President, Business Development, Sonoma County
In the meantime, the luxury travel trade is collaborating together on hosting more site inspections and FAMs than ever before, and attending trade shows and events to connect with industry peers. DMOs are emerging as an unsung hero, generating tools and resources to support agencies and suppliers alike. Neighbouring destinations are also working together to raise awareness of lesser known towns and attractions, enabling visitors to spend longer exploring hidden local gems.
Data sourced from mintel.com